Ole Sifuersen Graverholt (~1653 - > 1715)
Østfold / Akershus:
År


Year

Dokument


Document

Person / Gård


Person / Farm

Beskrivelse -

Description

Kilde -

Source

1701

Manntall


Census

Ole Sifuersen Graverholt
Utdrag av manntallet i 1701 for Graverholt under Kinnestad på Setskog i Høland
Manntall
Nedre Romerike fogderi
Høland prestegjeld,
folio 220
Utdrag av Manntallet i 1701 for Kinnestad og Graverholt: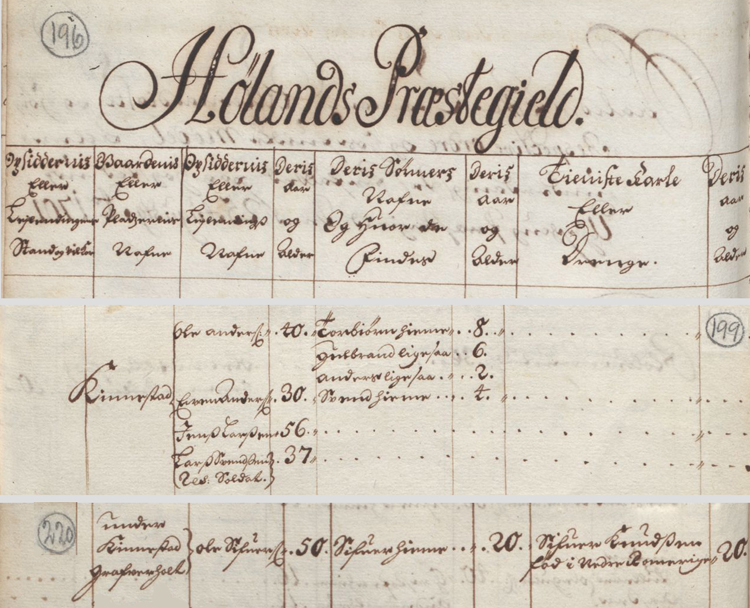 Hølands Præstegield.
Opsiddernis
Eller
Lejlendingens
Stand og vilkor
Gaardenis
Eller
Pladzennis
Nafne
Oppsiddernis
Eller
Lejlendings
Nafne
Deris
Aar
og
Alder
Deris Sønners
Nafne
Og Huor de
Findes
Deris
Aar
og
Alder
Tienste Karle
Eller
Drenge
Deris
Aar
og
Alder



Kinnestad



Ole Anderß:


Even Anderß:
Jens Larßen
Lars Svendßen
Res Soldat
40


30
56
37

Torbiørn Hieme
Gulbrand ligesaa
Anders ligesaa
Svend Hieme



8
6
2
4



Under
Kinnestad
Grafwerholt

Ole Sifuerß:

50

Sifuer Hieme


20


Sifuer Knudßen
fød i Nedre Romerige

20

---
Om du har kommet til denne siden uten at det er en oversiktsramme til venstre,
vennligst TRYKK HER for å komme til min hovedside.
If you have entered this page without a Menu Bar Frame on the left of the screen,
please PRESS HERE to get to my main page.